Google Reviews Kit – Bundle
Harness the combined power of: 1- Our highly visible Google Reviews Stand, that you can put anywhere in your business / establishment, to effortlessly collect 5 star reviews from your clients. 2- And our Google Review cards that allow you and your employees to actively choose when, how many, and from whom to collect Google Reviews. With Google Review card you can take control of your client feedback collection strategy, and achieve your desired numbers faster than ever before.
Google Reviews Hub is made of premium acrylic and is NFC-embedded and QR-enabled, so with a tap or scan, a new connection or customer is instantly directed to your Google Reviews page ⭐️ ⭐️ ⭐️ ⭐️ ⭐️
Google Reviews Card is 85mm x 53mm white matte recycled PVC with rounded corners. It's NFC Enabled, and QR code included
Ensure that people never forget to rate your services & products by making it very easy for them. With just a Tap, a review link will pop open in their phone directly. Whether you are a doctor, shop, restaurant, hotel, or any service provider Make it easy for your clients to give a feedback and share their opinion before they leave. • Access to Analytics Dashboard • Works With Apple and Android, no App needed • Ships In 1-2 Days • Data Secured On AWS
**Shipping calculated at checkout.
Shipping within France
Standard Delivery: 2-3 days
Express Delivery: 1-2 days
International orders (Europe)
Standard Delivery: 3-5 days
Express Delivery: 2-3 days
International orders (Other)
Express Delivery: 4-6 days
**Please note that your order may be subject to import taxes (for orders outside of the European Union) which are levied once your package reaches your country.
All color custom designs are printed in CMYK!
Gold & silver design finishes are printed using film transfer technology
We recommend uploading EPS, SVG's, PNG's, JPG's or PDF's with a DPI of 300.
Important Note: To print color logos on black supports we require a vector design file format.
The NFC in B in Touch smart devices allow you to tap/share to iPhone XR, iPhone XS, all iPhones 11s, all iPhones 12s, all iPhones 13s, all iPhones 14s and most Androids.
*Android receivers must have their NFC turned on in their settings.
You can also use your in-app QR code to share to any smartphone.
Either way, you can always share your profile without the other person needing an app. See our full list of compatible devices here:
Full list of compatible devices
You can also add this QR code as a widget on your iPhone's Home Screen.
Bulk Discounts (10% - 60% off)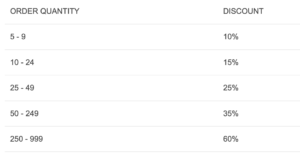 Policy
Our policy lasts 30 days. If 30 days have gone by since your purchase, unfortunately we can't offer you a refund or exchange.
Returns and Exchanges:
We replace items and pay the return shipping if they are defective, damaged, or the wrong size was sent. If you ordered the wrong item, you are responsible for paying the return shipping.